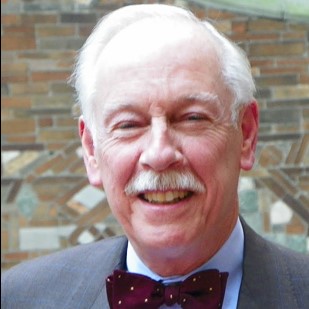 The collection of portraits of former rectors of St. Bartholomew's Church was recently enriched by the gift of a portrait of George Paull T. Sargent, rector from 1933 to 1950. The portrait was painted in 1946 and had been in the Sargent family for many years. The picture came to St. Bart's from John Sargent, a grandson of the rector, whose generosity is greatly appreciated.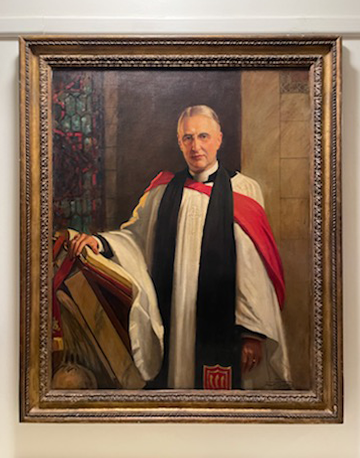 The portrait depicts Dr. Sargent standing at the lectern with one hand resting on the open bible. He is wearing the rector's tippet over his surplice with the hood representing his doctor of divinity degree somewhat askew over his shoulder. Today, the portrait may be viewed in the ambulatory behind the high altar.

Dr. Sargent was called as rector of St. Bartholomew's in early 1933 following the sudden death of the previous rector, Robert Norwood, in September 1932. It fell to him to shepherd the parish through the Great Depression and the Second World War. Realizing that involvement of young people was key to the future of his parish, Dr. Sargent enlarged the Sunday school and established a junior vestry to help oversee what was then called the Community House Club, as well as the activities of the ushers. During the war, Dr. Sargent kept up a voluminous correspondence with the hundreds of parishioners on active duty in the armed forces.

In 1935, the parish celebrated its centennial which included the publication of a history by E. Clowes Chorley. Dr. Sargent later oversaw the glazing of the windows in the chapel and the rose window in the south transept with stained glass. The Magnificat and the Gloria in Excelsis windows in the south clerestory of the nave also received stained glass during his tenure.

Dr. Sargent retired from St. Bartholomew's in 1950 and died ten years later.

The artist who painted the portrait, Frank O. Salisbury, was an Englishman who worked on both sides of the Atlantic. Many prominent people sat to him. His portrait of Franklin D. Roosevelt today hangs in the oval office at the White House.
Percy Preston, Jr.