Dear Ones,
I am so pleased to announce a new staff member joining the team at St. Bart's. This week, Teagan Sage begins as Associate for Visitor Services and Social Outreach. While Teagan is new to this role, he is a familiar face at St. Bart's. With multinational roots in both Germany and the United States (Kentucky), Teagan comes to us having most recently served a one-year appointment in the New York Service and Justice Collaborative, part of the Episcopal Service Corps program for young adults. During that time, Teagan became a regular worshipper at St. Bart's, participating in a number of ministries, including acolytes, 20s and 30s, and Imagine Worship.
In this new, multifaceted position, Teagan's time will be shared between "Visitor Services" and "Social Outreach." In his "Visitor Services" capacity, Teagan will be staffing the St. Bart's Central Desk and Bookstore in the narthex, recruiting and training volunteers to assist, and providing a warm welcome to the hundreds of visitors who drop in to rest, pray, reflect, and learn, throughout the week. The "Social Outreach" portion of his time will be spent providing leadership to our recently established Faith in Action Team, and providing support to our neighbors most in need — connecting them to community resources, strengthening our partnership with Crossroads Community Services (the soup kitchen and food pantry housed at St. Bart's), and mobilizing our parish for service and justice initiatives with our partners in New York City, across the Episcopal Church, and around the globe.
Teagan has hit the ground running and is already hard at work helping to plan the first such opportunity for service on Sunday, September 3, when we will have an intergenerational "packing party," at 10 am in the Great Hall — assembling backpacks full of basic necessities for displaced persons coming to the United States.
In so many ways, Teagan's new role represents to us the ministry of the baptized to which we are all called. Indeed, in our baptismal covenant we are called to seek and serve Christ in all persons, loving our neighbors as ourselves, and strive for justice and peace among all people, and respecting the dignity of every human being.
The needs in our world are great but God's grace and love poured out among us is even greater as we work and dream together, with God's help. Please join me in congratulating Teagan in this new role and giving thanks for this community of radical welcome, as we open our doors ever wider to make a place at the table for all God's people.
Peace,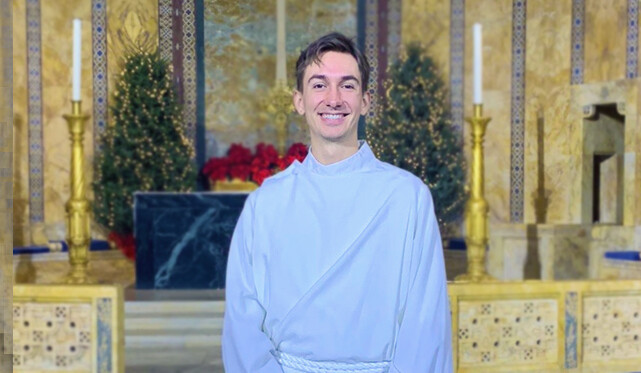 Read Teagan's Biography