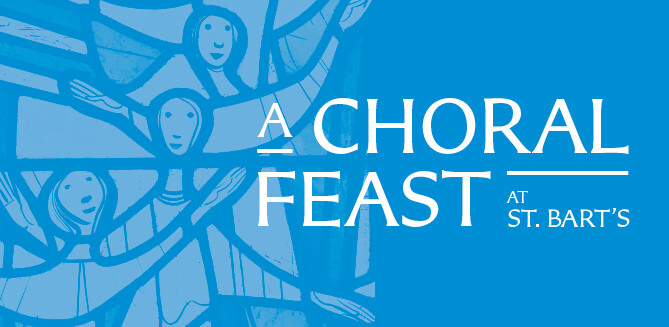 This music is made possible by your generosity and your commitment to bringing great sacred choral works to our sacred space.

Make a donation to support A Choral Feast

Sunday, January 26 at 11 am

Beach, Bingen, Boulanger
This Sunday, January 26 at 11 am we feature the works of three women composers: Lili Boulanger (1893–1918), was born into a musical family in Paris, France. At an early age she was drawn to sit in on her older sister Nadia's lessons at Paris Conservatoire, studying with celebrated musicians Louis Vierne and Gabriel Fauré. Amy Beach (1867–1944), also born into a musical family, is celebrated as the first successful American female composer. By the age of one she had a repertoire of forty songs that she could sing accurately. By age four she had composed piano music in her head, and by age six she had begun giving public recitals. Her prolific composing career includes time here at St. Bart's in the 1930s, where she was virtual composer-in-residence. Hildegard of Bingen, (1098–1179), was a German abbess whose mystical visions led her to be an astounding artist and composer of cutting edge music for liturgy. Not limited to the arts, her work extended to the natural sciences, theology, and correspondence with popes and emperors. Her liturgical drama "Ordo Virtutum" featuring sung roles for all the characters, save one—The Devil, who has no song, and is only able to wail and bellow. It is fitting that this "Sybil of the Rhine" imagined the power of evil having no singing voice.
Save the Dates for Our Upcoming Choral Feast Sundays
Sunday, February 9
Sunday, March 15
Sunday, May 10
Sunday, June 28
A Choral Feast
A Choral Feast is a Sunday 11 am service whose music celebrates a specific theme, composer, or a major choral work, often with instrumentalists joining St. Bartholomew's Choir.
Choral masterworks in Liturgy
Almost all of the greatest composers of the western musical canon have written music for use in worship, including major works such as Mass settings and Canatas. Over the years, St. Bartholomew's has distinguished itself as a musical destination by including hundreds of such works, often with chamber orchestra, as a part of our communal worship. Through A Choral Feast, we endeavor to present these great masterworks as they were originally intended by their creators: offered not in concert, but rather as a part of worship, in gratitude to the almighty.
This year's featured works have included Vierne's Messe Solennelle, Mozart's Missa Brevis in B-flat (K.275), Mendelssohn's Deutsche Liturgie, Franz Schubert's Mass No. 4 in C Majob, D. 452, and music of Johann Sebastian Bach.
Themes
Recent Choral Feasts have celebrated Americana for July 4th, music of gay composers for Pride Weekend, themes of heroism and service for Memorial Day. They sometimes mark red letter days in the cycle of the church year, such as the Last Sunday after the Epiphany, or All Saints Day.
Composers
This year's featured composers include Felix Mendelssohn, Johann Sebastian Bach, Giovanni Pierluigi da Palestrina, and Tomas Luis da Victoria, among others.
We sometimes combine choirs for A Choral Feast, adding St. Bart's Singers or our Boy & Girl Choristers to St. Bartholomew's Choir, our professional choral ensemble that sings for the 11am service each Sunday. Our magnificent Aeolian-Skinner organ is always a featured part of our musical offerings, including c.10 minutes of solo organ music before the service, as well as a featured work to conclude worship.
"All are to be welcomed as Christ," wrote St. Benedict. We endeavor to welcome visitors not only into community and connection, but indeed to a feast.