Yesterday evening I opened my phone to news of the unthinkable: yet another mass shooting, this time in an Episcopal church in Alabama, St. Stephen's in Birmingham. It is a parish known to many, a place where I have prayed, now the sight of bloodshed: two dead, another in the hospital at the time of this writing. I confess to being cerebrally horrified yet emotionally numb to the event. Such atrocities have become so commonplace that it seemed inevitable. In just the past month a mass shooting has hit our own state of New York and now our family of faith.
How might we as Christians be called to respond? A few thoughts:
Empathy
First, we need a renaissance of empathy in this country. Not only has there been too little action too late in time. There has also been too little concern before tragedy hits close to home, before it happens to us, whoever "us" happens to be. Today is also the seventh anniversary of the massacre of the Charleston Martyrs at Mother Emmanuel A.M.E. Church. Therefore, we might begin by recognizing that such violence has already struck our family of faith, which extends far beyond narrow faction or fold. If we are to take Jesus' prayer to heart — "that we might be one as he and the Father are one" — we would sense deep in our souls that every act of violence towards one person is in fact an assault towards all, regardless of color or creed, by virtue of our common and blessed humanity.
Today I ask God for the faith and courage to feel deeply and not be numbed.
Exorcism
Secondly, we must practice exorcism in the most relevant sense of the word. On Sunday we will read about Jesus confronting the demons in a man who is sick, downtrodden, and tormented by forces within and without. Exactly what the demons are and represent is open to debate. In addition to supernatural possibilities, mental disturbances and physical illnesses are certainly on the table — as are the broken systems that are unable and unwilling to provide support for the one who is possessed.
Jesus asks the man: "what is your name?" Exorcism begins with naming what is wrong. If we as a nation want to become dispossessed, we must begin with naming the obsessions and possessions that hold us captive, and then have faith to let them go. We must name gun violence for what it is and recognize the constellation of political and social realities that contribute to it.
In another story, Jesus asks a sick man, "Do you want to get well?" If so, he says, then "get up, take your mat, and walk!' The work of casting out demons and healing what is ill begins with diagnosis and ends in taking resolute action, with willfulness, intention, and prayer.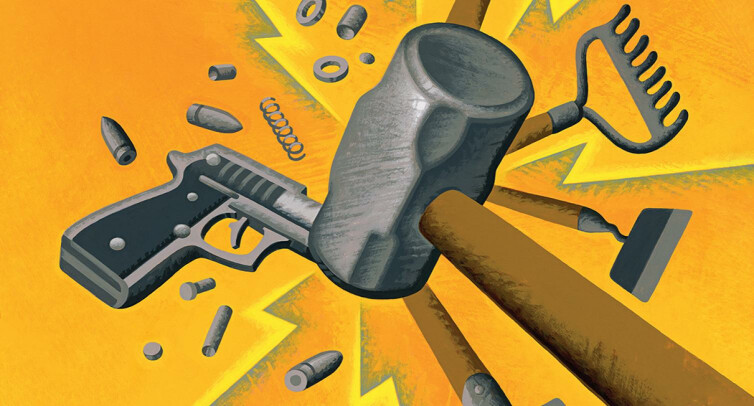 Image by Adam Niklewicz
Action
The church has a role to play as we contend with the demons of our day. So keep saying your prayers, but don't stop there. I urge you to take action in whatever way God is calling you — whether calling on your leaders of Congress to enact policy change or by learning more at Bishops Against Gun Violence, to which our own Rector, the Right Reverend E. Wolfe, belongs.
Remember, it was us this time. It is us every time.
Lord, have mercy.
Christ, have mercy.
Lord, Have mercy.
May the souls of Sarah and Walter and all the departed, by the mercy of God, rest in peace.