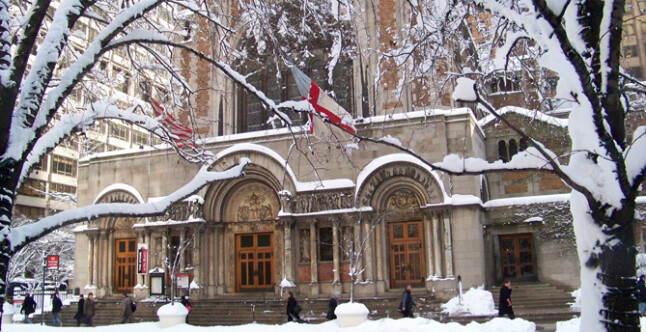 We welcome you to St. Bartholomew's Church, a warm, vibrant and growing parish of the Episcopal Diocese of New York, located in the heart of midtown Manhattan at 325 Park Avenue between 50th and 51st Streets.

Our mission is to comfort, challenge and inspire a growing community of people in search of meaning and hope in their lives.

We experience the mystery of God, hear and wrestle with God's word, share Christ's presence in the sacrament, feel God's love in community, and leave strengthened to live and serve in the world.

We passionately serve our city and the larger world, we welcome people of every denomination, and whether you're looking for a church home or just visiting, we invite you into our parish family, both here in New York City and virtually. We invite you to become part of who we are, through our daily cultural community offerings, beautiful music and powerful inspirational worship services.


We think of our sacred space as a gift—something bequeathed to us by our forbears and a gift we we are called to share with others. More than the landmark building and location, the essence of St. Bart's is its community of members, friends and visitors—a community that lives the Gospel of God's radical welcome to everyone, that embodies the teaching of Jesus.
We practice what St. Benedict taught his monks and their households: "All guests who present themselves are to be welcomed as Christ" - Rule of Benedict 53:1